About me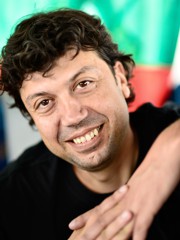 My name is Alexander Dimitrov, 50 years old, and I will add that, I am a happy person because, I have managed to make my life come true in the direction of what brings me pleasure. My childhood dream, computers became a profession, a programmer.
My love to travel was reborn in photography. And somehow everything fell into place and acquired a complete whole. New places, photos, footage processing.
Only ten years have passed since my first appearance in the world of pixels, foreground and focuses, but I continue to experience a captivating emotion in every good shot of mine or a colleague. My deepest experiences are actually the captured moments in the frame, to give a photo and see how happy people are, makes me happy.
Solo exhibitions
My photographs are not masterpieces, but I hope browsing my photo gallery to give you pleasure.
All photos are copyrighted, made by me or any of my family.
Sorry for my poor English.
Find me here

E-mail

Skype
aldi777

Facebook
Alexander Dimitrov